Hi everyone!
I'm Erin Spain and I blog at DIY on the Cheap, where I share my journey of creating a beautiful home on a budget. You'll find everything from small craft projects to furniture builds and everything in between. I'm excited to share a fun DIY project with you today, and this one is perfect for spring! I'm showing you how to create a DIY Chevron Planter. (Although the chevron paint treatment is optional, of course!)
First, let's talk about the planter itself. You can purchase a pre-made planter and simply customize it with paint, or you can go the completely DIY route and build it yourself! Here are the plans for this planter:
Supplies: 
1 – 2×12 at 8 ft. long

1 – 2×4 ( Just a scrap – about 16 inches total in length)

2 – 1×2 at 8 ft. long

Sliding Compound Miter Saw (Or you can have your wood cut for you at the hardware store when you purchase it.)

Cordless Brad Nailer (or hammer and nails)

2-inch Finish Nails
Wood Glue

Drill

Sander
Paintable Caulk or Wood Filler (if you're imperfect like me)
Cut List:
4 – 2×12 at 18″ long (for the sides)
1 – 2×12 at 14 1/2″ long (cut to fit – this will be the bottom)
4 – 1×2 at 13″ long (at longest points) Cut to fit with beveled ends at 45 degrees, not parallel
4 – 1×2 at 15 3/4″ long (at longest points) – Cut to fit with beveled ends at 45 degrees, not parallel
2 – 1×2 at 16″ long (at longest points) – Cut to fit with mitered ends at 45 degrees, not parallel
2 – 1×2 at 13″ long (at longest points) – Cut to fit with mitered ends at 45 degrees, not parallel
4 – 2×4 at 4″ long (for the feet)
(Note: If you do not have a miter saw, you can modify these plans and just have straight edges rather than mitered corners. This way, you can just use any type of saw. It will just create a different type of look.)
Assembly:
Now it's time to piece it all together like a puzzle! This is the easy part. You will assemble, glue, and nail it all together with your brad nailer using 2 inch finish nails (or just use a plain old hammer and nails). The final dimensions are approximately 22″H x 11 1/4″W x 14 1/2″ L.
First, put your sides together, forming a rectangle shape.
Your "side" pieces will be glued and nailed to your front and back pieces.
Then place your "bottom" piece on top and nail it on. I attached my feet last, but you can do it at this point if you'd prefer. Then, flip the whole thing over.
Attach your trim next, adding the bottom and top perimeter pieces first, and then the top pieces with the mitered ends to create the "lip".
At this point, I flipped the whole thing back over to add the "feet." I lined the corners of the feet up with the corners of the bottom piece, not the trim. I wanted them to be set back farther than the trim rather than have them come all the way to the edge.
I'm not an awesome carpenter, so I didn't have perfect seems around the edges. I fixed this by caulking the gaps. Be sure to use paintable caulk
! (Or you could use wood filler.)
Be sure to drill several holes in the bottom to allow for drainage.
Chevron Paint Treatment:
 First, I primed and painted the whole planter white. You can use regular painter's tape to create a chevron pattern, but I took the easy way out and used FrogTape Shape Tape in the chevron. After taping, I painted it black and then peeled the tape off while it was still wet. Super easy! I recommend two coats of black paint — I only applied one and it could've used another for better coverage.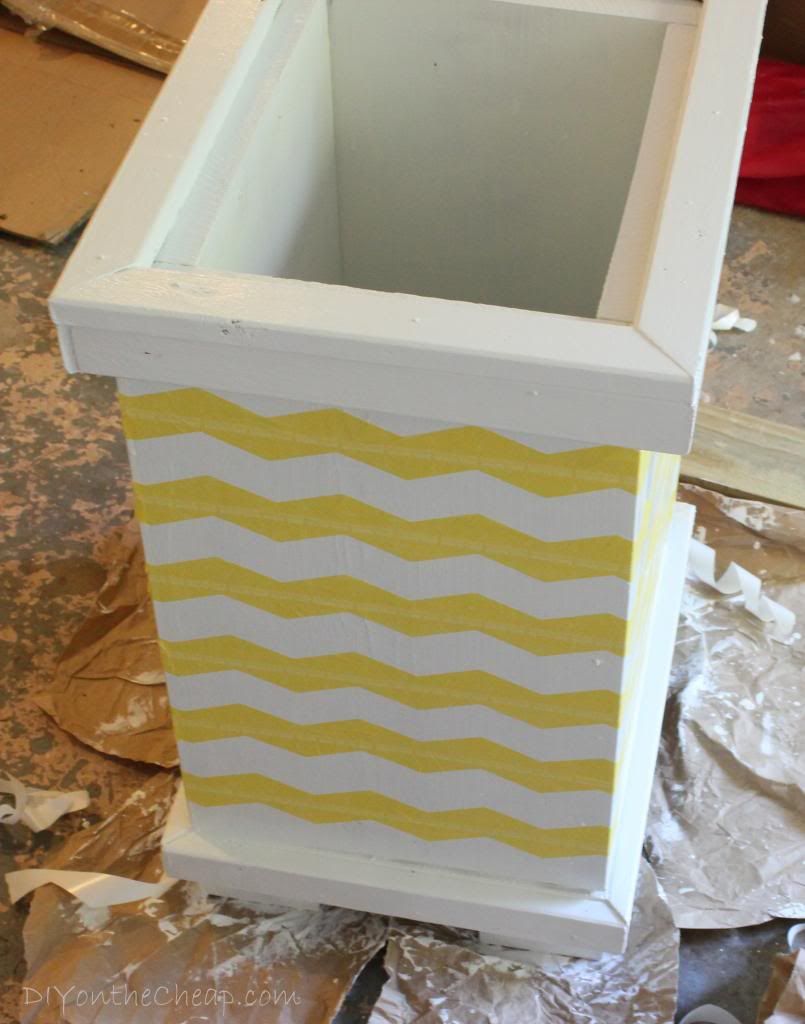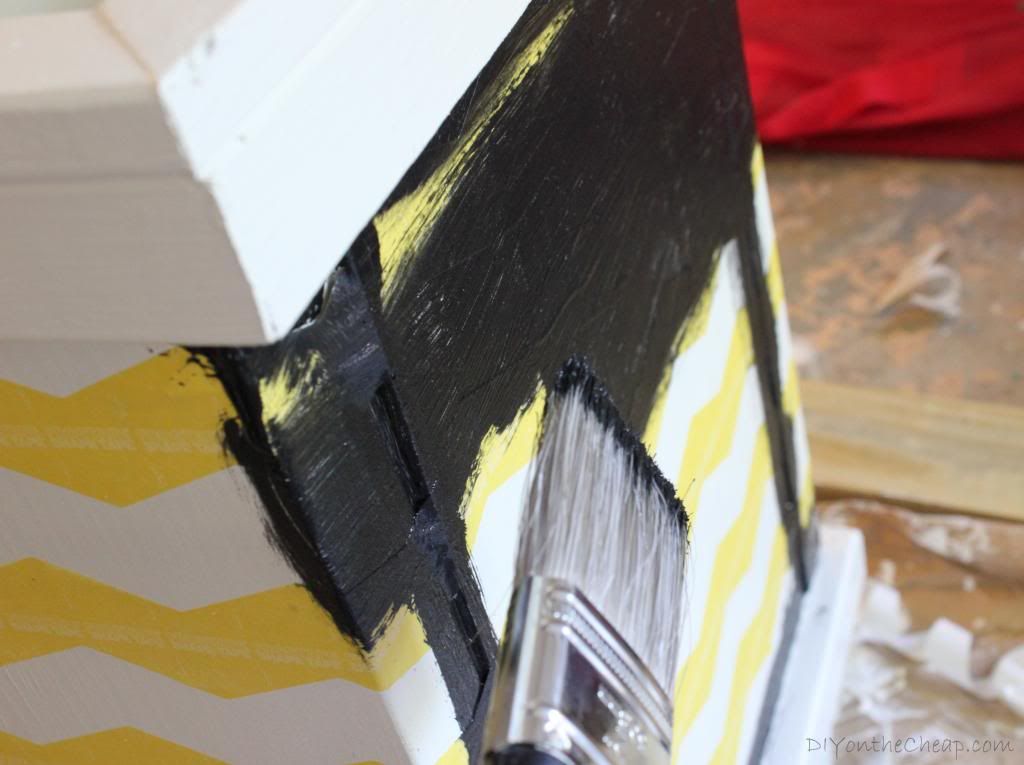 Here it is all finished!
You can fill it with soil and plant anything you'd like, but I opted to just insert a hanging basket (with handle removed) since it was the perfect size. It just rests inside the planter.
Enjoy! 
What do you think?